Reading Time:
9
minutes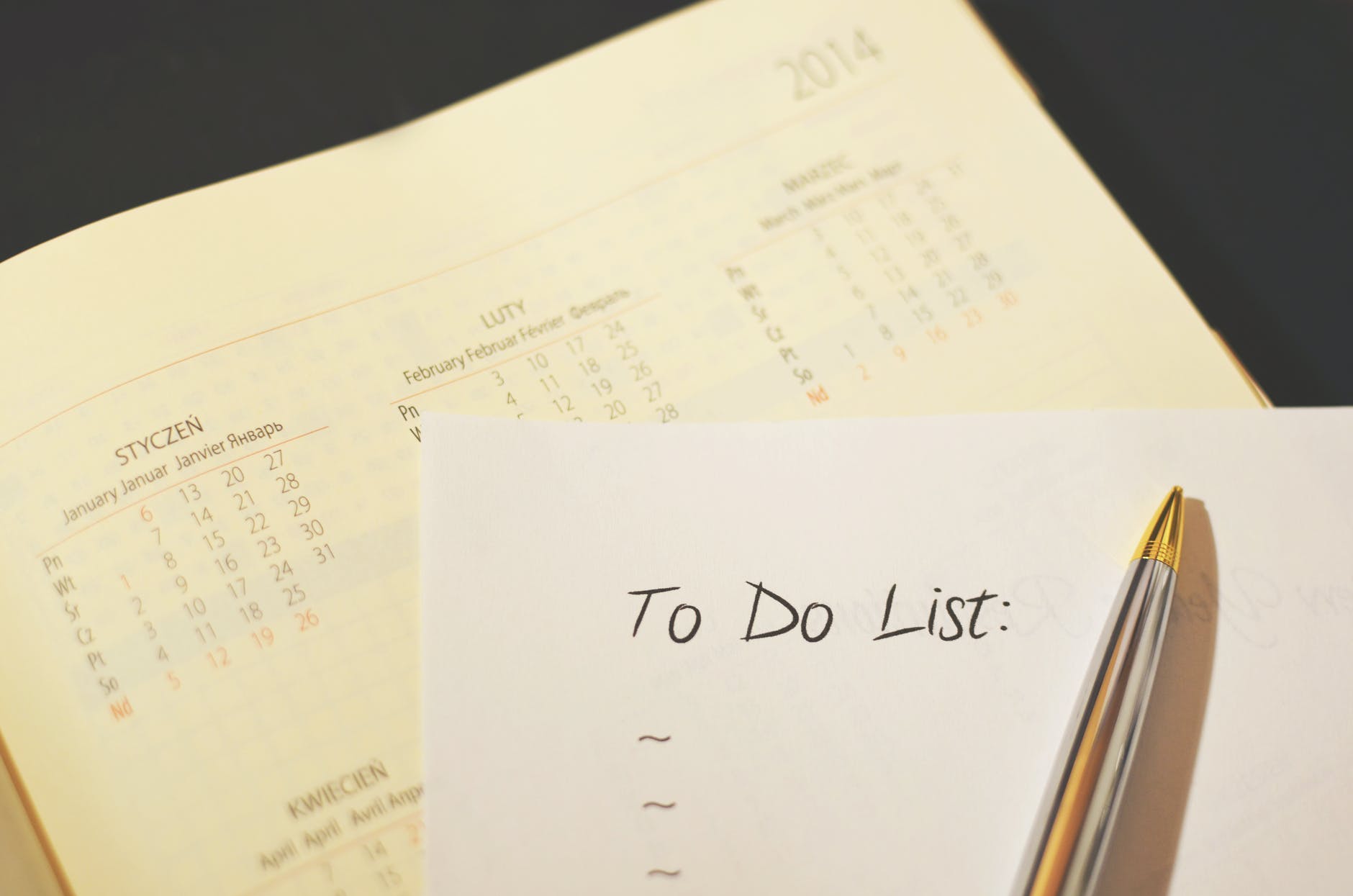 If you're anything like me, a productivity nerd and a tech guy, you'd have searched for the best to do list apps for iPhone or Android.
I could not find anything that could satisfy my itch for that "perfect" to do list app especially for iPhone so here's an article specifically for iPhone users.
Regardless if you're looking for a simple interface for a to do list app or something with the most decked out feature, in this article, I will share 10 of the best to do list apps for iPhone which I've personally used.
10 Of The Best To Do List Apps For iPhone
What makes these the best to do list apps for iPhone?
The criteria I've set for these apps for it to be on this list are:
Able to be used seamlessly while on the go using your iPhone
Preferably with widgets available
User-friendly and able to perform the task it's meant to perform
Simple and aesthetically pleasing interfaces
Preferably free to use
Not every app in this list was chosen because it met all of the points above. Some apps provide a better experience than the other while some contain more features which I will elaborate on them one by one below.
---
MinimaList (For the minimalist) Free for basic, $5.99USD a year for premium
My to do list of choice, MinimaList, provides the simplest interface compared to the rest. It meets most of the requirements such as having a widget available on IOS, user-friendly, free to use and able to use seamlessly on the go.
If you're looking for an intuitive to do list that's able to get the job done with a widget available, look no further as MinimaList might just be the best choice.
Pros
A simple, fuss-free to do list you can use right away
Free to use but in-app upgrades available
Widget available
Features a Pomodoro timer
Cons
Might look too simple for some people
Not suitable for teams or organisations
May lack features when comparing it with the rest
---
Habitica (For the avid gamer) Free, In app purchases available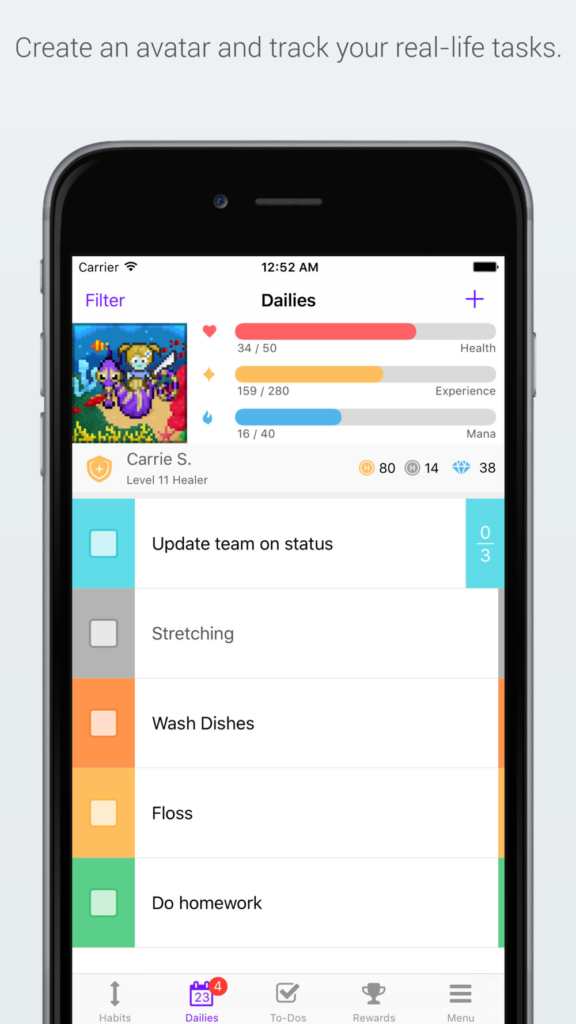 Habitica is a well thought out and unique app. It provides a gamified experience while you track your daily habits and to do lists which is an interesting idea that taps on the concept of dopamine release which can help you to be more consistent in completing your daily tasks.
There are 3 categories in this app; Habits, Dailies and To-Dos. After you complete each task, your avatar will gain experience points and can level up. Eventually, you will be able to grow stronger and fight bosses in the app. You can also find equipment and own pets too which derives from the core fundamentals of checking your to do list.
Pros
Fun and engaging app
Gives you a great sense of achievement
Free to use
Cons
May complete "tasks" for the sake of leveling up your character
Can become more like a game than a to do list
---
Todoist (For the organised) Free for basic, $36USD a year for premium
Todoist is one of the more organised and neat to do list app and although it has been around for awhile, it is recognised as one of the market leaders in the productivity app space.
It provides really neat features such as the ability to colour-code your different tasks, sorting them by priority levels, creating sub-tasks and projects.
The developers are also constantly upgrading the app to provide for more integration and features such as using the app with your Apple watch.
Pros
Organised, neat and aesthetically pleasing
Handy and important features
User-friendly and with widgets available
Able to delegate tasks with people
Cons
Cannot retrieve tasks that are completed
When writing tasks in different languages, the app may not function well
Not able to rearrange the order of your tasks
Free version may not be enough for teams
---
TickTick (For the focused) Free for basic, $27.99USD a year for premium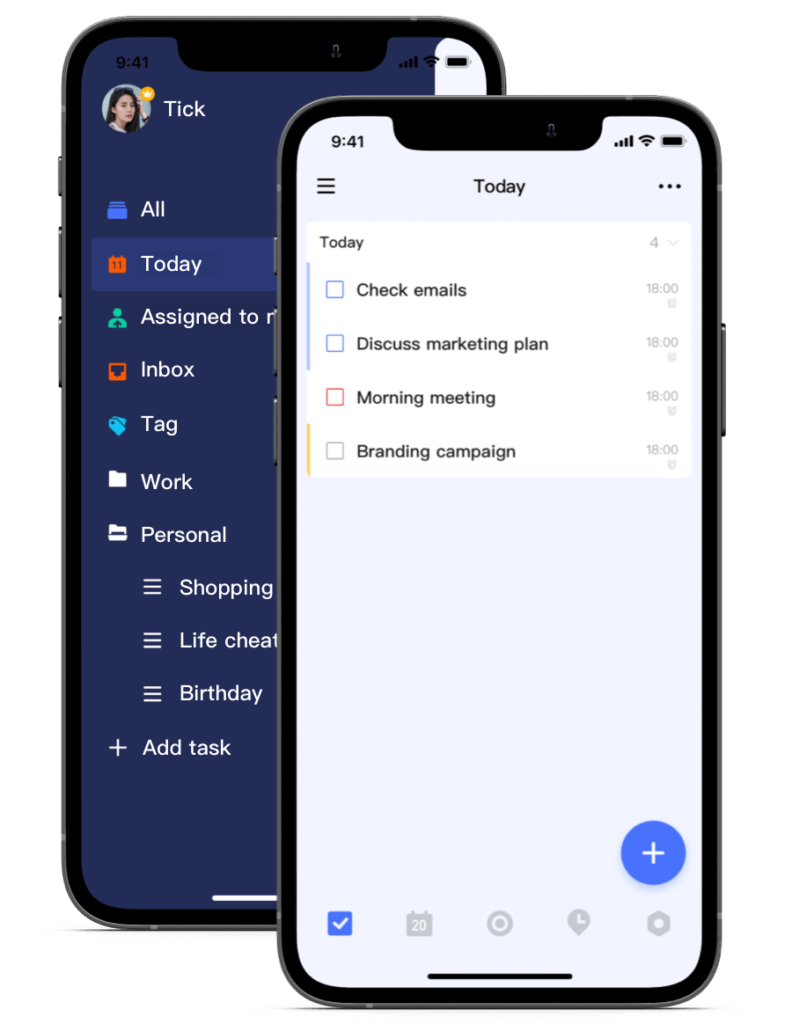 TickTick is an app similar to Todoist however, it is more focused on task completion with a few features such as "annoying alert" (with high priority tasks), recurring tasks and a Pomodoro timer.
They have an achievement system in the app where the more tasks you complete on time, the more scores you'll get.
A few notable things about TickTick is the ability to organise your tasks into folders such as "Work" or "Personal" and the integration with many devices from Google calendar, Apple watch to even Linux.
Pros
Features such as "annoying alert" and Pomodoro timer to ensure you'll get things done
Able to sort tasks into folders
Great syncing and integration with other devices
Cons
Not suitable for teams and organisations
Unable to share list with other users
"Annoying alerts" can actually become really annoying in the long run
---
Any.Do (For the family man) Free for basic, $26.99USD a year for premium
Any.Do is another great app that seems to be like the brother of MinimaList but with more features.
The app seems to thrive when used in the form of a family and friends setting as it focuses on their calendar which comes in a neat widget and their smart grocery list which can be shared to your family members.
Another great feature in this app is the intuitive daily planner where you can run through your daily tasks and prioritize them with colourful buttons from doing them today, rescheduling them, checking the tasks off or deleting them.
Pros
Smart grocery list to make shopping efficient
Intuitive and award winning app design
Daily planner feature
Able to shift tasks up and down
Cons
May lack important features such as adding sub-tasks
More suitable for personal task management
Limited usability for free version
May forget to hit the button to add task, could be better if it automatically adds for you while you type, no need to confirm to add it
---
Notion (For the all-rounder) Free for basic, $48USD a year for premium
It wouldn't be a "10 best to do list apps for iPhone" article without Notion inside.
The app all productivity gurus swear by and an app I've been using for almost 2 years to document everything about my work from generating content ideas to tracking my profit and loss, Notion has been by far the greatest productivity app in my life.
But how does it fair if you're going to use it as a to do list? Just as well.
Notion is extremely customizable and you can find many to do list templates for free online or you can build a simple to do list on your own.
You can also take a look at how I use Notion in my daily work in this article.
Pros
Free version will suffice (For personal use)
Ton of features and templates built in
Fully customizable and really fun to use
Aesthetically pleasing
Cons
Not user-friendly at the start
The amount of customizations and templates can become overwhelming
May find yourself wasting quite a bit of time customizing your pages or learning the commands
A little difficult to use on the phone if you want to add new customizations
---
Asana (For the workaholic) Free for basic, $131.88USD a year for premium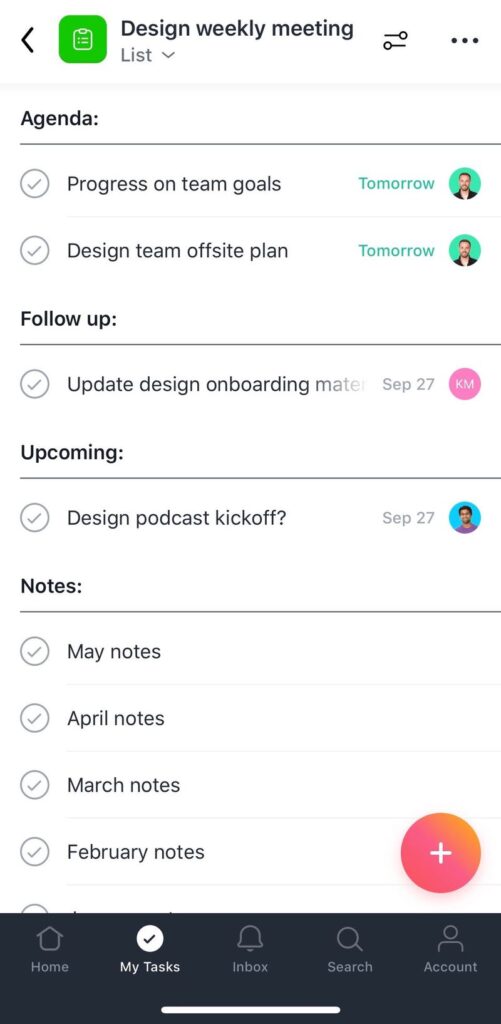 For those who are looking for a separate to do list for your company, Asana is a great to do list/project management app which you can collaborate with up to 15 members (for the basic version).
Depending on your needs, Asana has different workflow templates to help you and your team with visualisation of tasks from creative production to events management.
Although some of it's templates may remind you of Notion, the great thing about Asana is the wide array of app integrations which can greatly benefit your organisation.
In overall, it's a great app to monitor team progress and to get everyone on board with the same objectives, however, it may be overkill for personal use.
Pros
Great app built for its purpose (project management for teams)
Wide array of app integrations
UI/UX is intuitive for everyone to use
Cons
May not be cost effective for smaller teams
Basic version lacks key features
Unable to assign a task to multiple users
Completed tasks cannot be archived (Interface can get cluttered)
---
OmniFocus (For getting things done) $99.99USD a year on all Apple devices with OmniFocus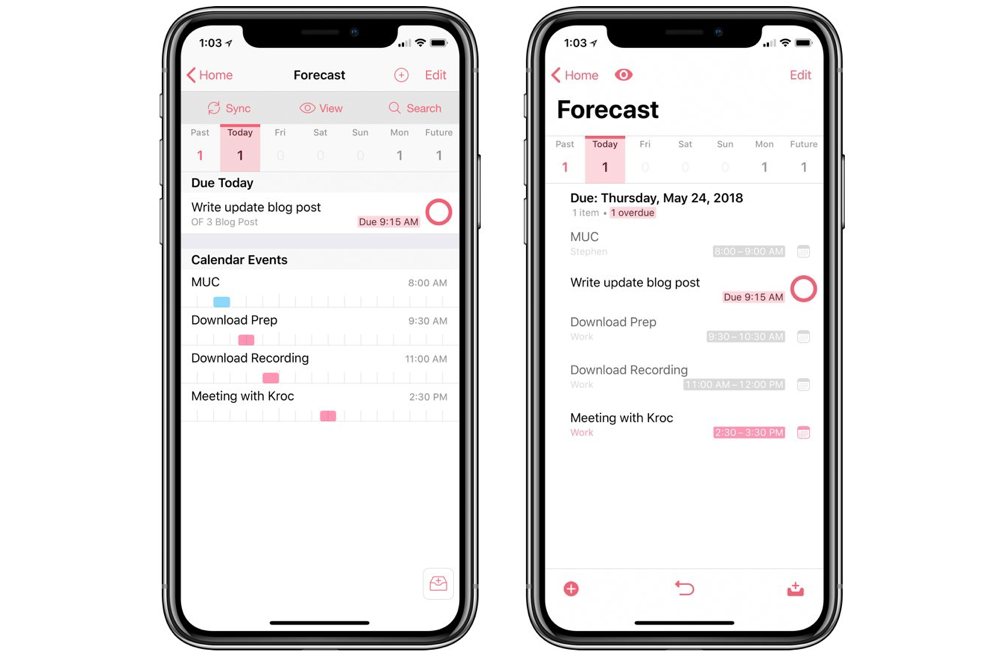 If you're a fan of the book "Getting Things Done" by David Allen where he shares about the 5 part process of ensuring you can be productive to get things done, this is the app for you.
The 5 part process from the book is summarised below:
Capture everything that needs to be done by writing down your tasks, ideas, projects, and more.
Clarify your ideas. Decide if they're really important—and if so, what action needs to be taken to complete them.
Organize your tasks, pulling similar tasks together to complete at once or grouping project tasks into a workflow so you do each step in order.
Reflect on your work, reviewing your projects to make sure the tasks are still relevant and to make sure you didn't forget anything.
Engage and actually do the tasks.
For a more detailed write up about how the app integrates itself around the philosophy of the book, you can take a look at this article here.
The idea behind the GTD process is essentially to write down any task or idea so you can further review and categorise them by priority and then doing them.
Pros
Backed by the author, David Allen himself
Follows a productivity system that may work for you
Widgets and syncing across Apple devices available
Cons
No free version (Free trial is available)
App may look old-school for some people
Not user friendly, learning curve is involved
---
Do! (For the straightforward) Free for basic, $1.99USD to remove advertisements, $0.99USD for unlimited groupings
The next alternative to MinimaList is Do! which is another straightforward and simple to do list for someone who prefers simplicity.
Do!, however, provides slightly more useful features as a free version compared to MinimaList such as colour tagging of tasks and pinning tasks on the top of the list which I've just found out. Whereas MinimaList requires the paid version for task priority and the app does not provide colour tagging.
Time to make the switch!
Pros
Simple and intuitive
Free with great features and Apple Watch integration
Widgets available
Multiple app themes
Cons
Contains advertisements
Limited groupings
A small fee to fully enjoy the app (a small con that's well worth)
---
Structured – Day Planner (For the aesthetic) Free for basic, $9.99USD for Premium
Last but not the least, in fact, the most unique to do list app for iPhone in terms of layout and interface on this list, the Structured – Day Planner has a vertical user interface instead of the traditional horizontal ones for your tasks.
Another thing you might notice is how pretty the app looks. And it might just be one of the many reasons why it has a ton of amazing reviews about how using this app is satisfying and fun.
Beauty aside, the vertical interface might just be a great psychological factor for you to feel accomplished at the end of your day as the tasks flows from the beginning of your day to the end with a timer set for each tasks. The timer is also accompanied by a visual flow of colour filling the "pill-shaped" cylinder as time passes with a logo similar to the task mentioned inside of it.
The psychological motive of the design of the app to bring you through the day is amazing while followed by a great aesthetic appeal, kudos to the developer.
Pros
Great aesthetic appeal
Interface and design of the app may help guide you with your tasks through the day
Notifications when a task starts or ends (Pro plan only)
Cons
Recurring daily subtasks did not uncheck themselves (Could be just a bug)
Vertical layout may not be suitable for everyone
Recurring tasks are only available on paid version (May be a deal breaker, however app is worth the money)
---
Conclusion
With so many wonderful to do lists to choose from, I hope this article can help you to pick the most reliable to do list according to your needs.
I enjoyed writing this article as I am still on the search for the best to do list apps for iPhone out there in the market and I hope there will be more to come!
If this article has helped you, do share it with your friends on your socials! I will be most grateful. Also comment down below on which to do list app you are using!
Time to check this article off my list! See you in the next one!
Related Reads: